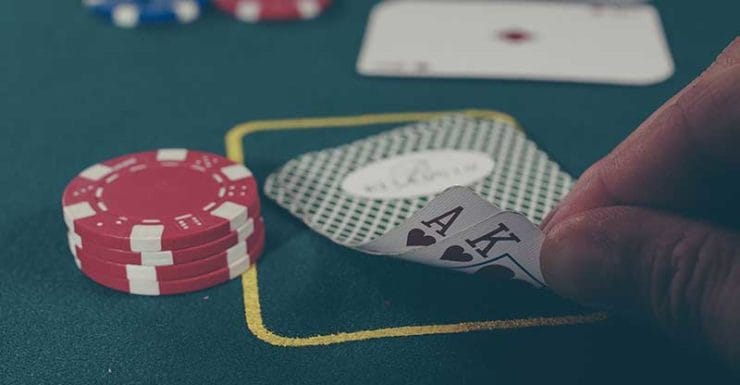 Gambling addiction is not always easy to detect. After all, there are no physical signs of compulsive gambling, and it's easy for an addict to gamble alone. Addicts also go to great lengths to hide their issues, so even close family and friends may not sense that something is wrong.
If you or a loved one has a gambling problem, it's necessary to look for gambling addiction treatment centers. Call Promises Behavioral Health at 844.875.5609 to speak with a caring mental health professional. Our treatment programs can help you overcome gambling addiction and any underlying mental health concerns via dual diagnosis treatment centers.
America's Gambling Addiction Programs Need
Gambling is a widespread problem in America, affecting around 1% of adults. Due to the rise of online gambling and games with gambling elements, children are now also at risk. Most people become exposed to gambling as teenagers, and teens who gamble have a higher risk of developing a gambling addiction as adults.
Gambling addiction is also increasing. Some statistics about gambling include:
2 million adults are gambling addicts.
4 to 6 million adults are problem gamblers.
90% of high school students have gambled at least once.
Up to 14% of high school students are at risk of developing a gambling addiction.
As many as 6% of college students are problem gamblers. This is double the rate of the general population.
Many gambling addicts face additional problems. As many as 80% of clients seeking treatment for gambling addiction also suffer from a co-occurring mental illness. This can include alcohol or drug abuse, a mood disorder or a personality disorder. If you have depression, anxiety or another mental illness, gambling addiction can only make the symptoms worse. Many gamblers frequent casinos and bars where they can place bets. These environments encourage alcohol use, making your inhibitions fade away and your mental illness symptoms worsen.
Why Seek Gambling Addiction Treatment Centers?
A common myth about gambling problems is that they're not as dangerous as an addiction to alcohol or a need for drug rehab treatment centers. Compulsive gambling has negative effects on many aspects of your life. One survey found that gambling addicts had a higher risk of job loss and personal problems. For instance, of those surveyed:
13.8% had lost a job within the last year
53.5% were divorced
19.2% had filed for bankruptcy in their lives
21.4% had been incarcerated at least once in their lives
Gambling addiction can also lead to mental illness and several physical health risks. It can even be life-threatening. Up to 24% of gambling addicts attempt suicide at least once. Additionally, the stress of chronic gambling is a risk factor for cardiovascular disease. Seeking the help of gambling addiction rehab centers is crucial.
Gambling Addiction Treatment at Promises Behavioral Health Centers
Promises Behavioral Health offers gambling addiction rehab centers at The Ranch in Tennessee. With an authentic ranch setting of rolling hills and green pastures, The Ranch is a peaceful place that promotes recovery and healing.
The goals of our gambling addiction programs are to help each client:
Understand the vicious cycle of compulsive gambling
Understand the relationship between compulsive gambling and substance abuse
Address financial concerns with money management education
Improve their self-esteem and self-worth
Build shame resiliency
Rebuild damaged relationships
Reduce stress by developing coping skills
Develop skills that help them resist gambling and other kinds of destructive behavior
Do You Need Medical Detox?
If you suffer from a co-occurring substance abuse issue, our detox program can start you off on the right foot. The Ranch offers a medical drug detox program to help clients detox in a safe, comfortable environment. Medical detox includes round-the-clock supervision and withdrawal medications as needed. After detox, the client is ready to start an inpatient treatment program.
What Is the Gambling Addiction Treatment Program Like?
The core of the program includes evidence-based treatment options for overcoming gambling addiction. We also offer support for co-occurring disorders. In addition, clients can try a range of alternative therapies.
Individual therapy programs are one of the most important parts of the program. In one-on-one therapy sessions, clients explore the underlying issues. They also learn new behaviors and coping tools to help them avoid falling back into old patterns.
Group therapy programs provide the chance to connect with peers who face similar problems. As you explore your own challenges, you can learn from others as well.
Psychiatric care is often an integral part of treatment, even for process addictions such as compulsive gambling. People with co-occurring disorders often benefit from psychiatric medication.
Alternative therapies such as mindfulness and equine therapy offer new ways to learn, grow and change. Clients are also encouraged to spend time working on their physical fitness, to help support their mental well-being.
Aftercare is an important part of addiction treatment. We offer aftercare and alumni programs so that clients continue to receive vital support after they return home.
Inpatient Gambling Addiction Treatment Center
Inpatient clients live at the treatment center for the duration of the program. Without the distractions and temptations of your home life, you can focus your full attention on recovery. Thus, providing the time you need to understand the roots of your addiction and start addressing your own personal challenges.
Clients in the inpatient program participate in a daily schedule of group and individual therapy, process groups, and other activities. These activities help you learn about addiction and recovery. You can also learn new skills to stay addiction-free and manage your mental health once you return home.
Do You Need Help with Problem Gambling?
The secrecy of gambling addiction can make you feel like there is nowhere to turn, but you are not alone. Call Promises Behavioral Health at 844.875.5609 now to talk to a healthcare professional about gambling rehabilitation centers.